Περιγραφή
Dimension Optical Probe (Handheld Power Meter) Model: OP-01
Τεχνικά Χαρακτηριστικά
Specifications: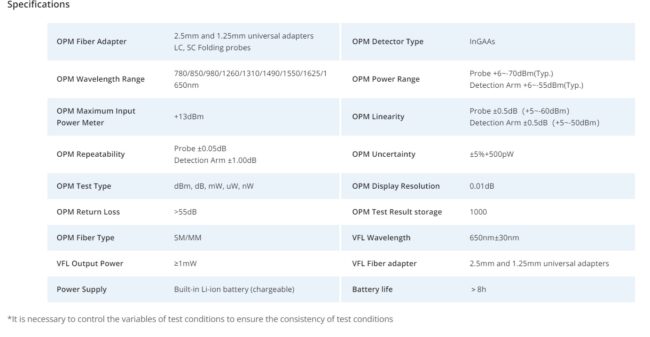 OP-01 Handheld Optical Multimeter Built-in 1mW Visual Fault Locator
DIMENSION optical probe integrates OPM (optical power meter),
VFL (visual fault locator), RJ45 cable tracker and sequence test and other functions.
The optical probe is easy-to-use, and it can easily handle with the construction of various
communication networks and different test scenarios.
Thanks to the unique probe-type and non-contact universal interface design,
field engineers do not need to carry a wide variety of other fiber patch cords,
all tests can be completed with one optical probe.
Support RJ45 line tracking function
In a complex field environment, it is difficult to determine the head and tail of a wire. The optical probe integrates RJ45 line tracking function. User can plug one end of the network line into the OP-01, and use the receiver to find the other end of the network line.
Compatible with USB transfer, allowing to save data to PC
The optical probe allows to store maximum 1000 measurement results, which can be saved to PC via USB.